Shop Our UNIT4 Training Rifles.
VERSATILE, ACCESSIBLE, DEPENDABLE, AND REALISTIC.
The UNIT4 is
Classified by the ATF as a non-firearm.
All models include one (1) UNIT4 Magazine, and are compatible with upgraded rails and accessories. 
The UNIT4 is currently in use by the U.S. Special Operations Command, the U.S. Army, and countless professional training companies & law enforcement agencies throughout the country. Watch this brief video to learn why.
"The Weight, The Balance,
The Realism Is Remarkable. It Is Phenomenal Overall."
Frogman Tactical is a weapons and tactical training company founded by former Navy SEAL and combat veteran, Jason Pike. See why Jason prefers the UNIT4 for his tactical training needs.
Purchase the UNIT4 model that is right for you today.
Payment plans are available. We are so confident that you will love the UNIT4 that you can try it risk-free and return it to us free-of-charge within 30 days of purchase: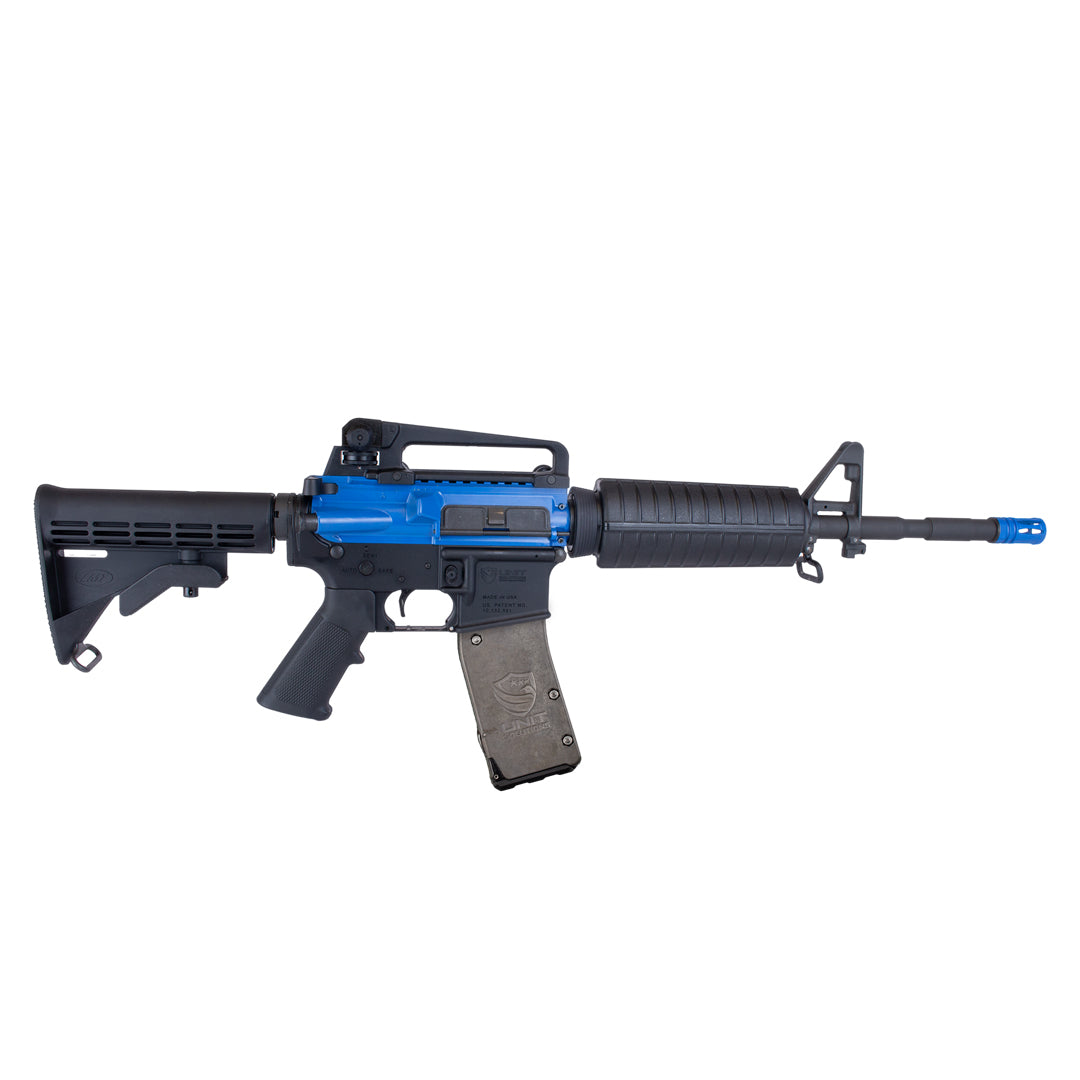 Test & Evaluate The
UNIT4 Training Rifle Before You Purchase.
Our UNIT4 T&E Kit allows law enforcement, military and professional trainers to test the system before making a purchase. The UNIT4 T&E Kit includes one (1) rifle, one (1) magazine, and 600 non-lethal training rounds.
Professional Trainers
Prefer The UNIT4 Training System.
See why Kyle Morgan, a former Tier 1 Special Forces Operator—and the owner of Blu Bearing Solutions—prefers the UNIT4 for his tactical training needs.
The UNIT4 is
Contract-manufactured by Lewis Machine & Tool
The UNIT4 is contract-manufactured by Lewis Machine & Tool, using the same military-grade materials as their M4 rifles.

Identical to the M4 service weapon in fit, form and function, the UNIT4 fires in both semi- and full-auto, with completely realistic trigger pull and recoil.