UNIT4 Training Rifle for Professional Training Companies
Maximize your ability to protect your family with the unit4 training rifle
The UNIT4 is a safe and realistic system that was designed to allow users to conduct frequent, realistic training in an at-home environment.
Safe Enough For Mom
But Real Enough for dad
The UNIT4 Training Rifle combines realism and safety into a versatile at-home training system:
Classified by ATF as a non-firearm and cannot chamber a live round
No brass, explosions or gunpowder
Manufactured by LMT Defense with same forgings as their AR-15
Compatible with all weapon lights, optics and accessories
Realistic recoil and rate of fire
Identical weight, length and magazine capacity to AR-15
No Time For The Range?
Train at home on your time
The UNIT4 Training Rifle can be quickly and safely deployed at home within minutes to train for:
Basic marksmanship and target practice
Clearing all the rooms in your home
Working stairwells and exterior thresholds
Transitioning from a vehicle to your home
And the best part? At just 80 decibels, you can get quality trigger pulls in after hours, without waking the family.
Our rifles are made in the usa and backed by the industry's best warranty
All UNIT4 Training Rifles and Magazines are backed by a full 2-year warranty from defect in materials and craftmanship.
Save $$$ With the UNIT4
Train more, spend less
Because the UNIT4 gives you the freedom to train at home, you'll be able to increase the frequency of training at a fraction of the cost.
No range fees or gas money driving to and from the range
Reduce live ammo consumption
Non-lethal rounds are always available, even during ammo shortages
With our payment plans, you can split your rifle purchase up into four interest-free monthly installments.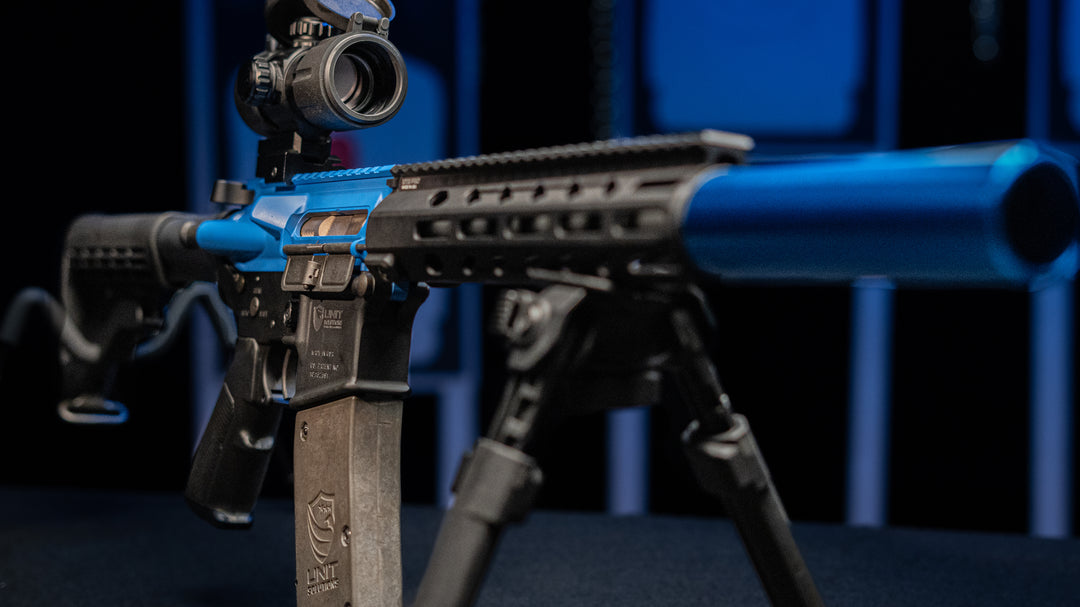 Get Started today at our
Lowest prices of the year!
Each UNIT4 Rifle purchased includes a full length MLOK Rail.
Blanks at just $0.06 per round
Nonmarking rounds at just $0.15 per round
Marking rounds at just $0.25 per round
Promotional Pricing ends on Sunday, December 3.