Learn More About The UNIT4 Training Rifle.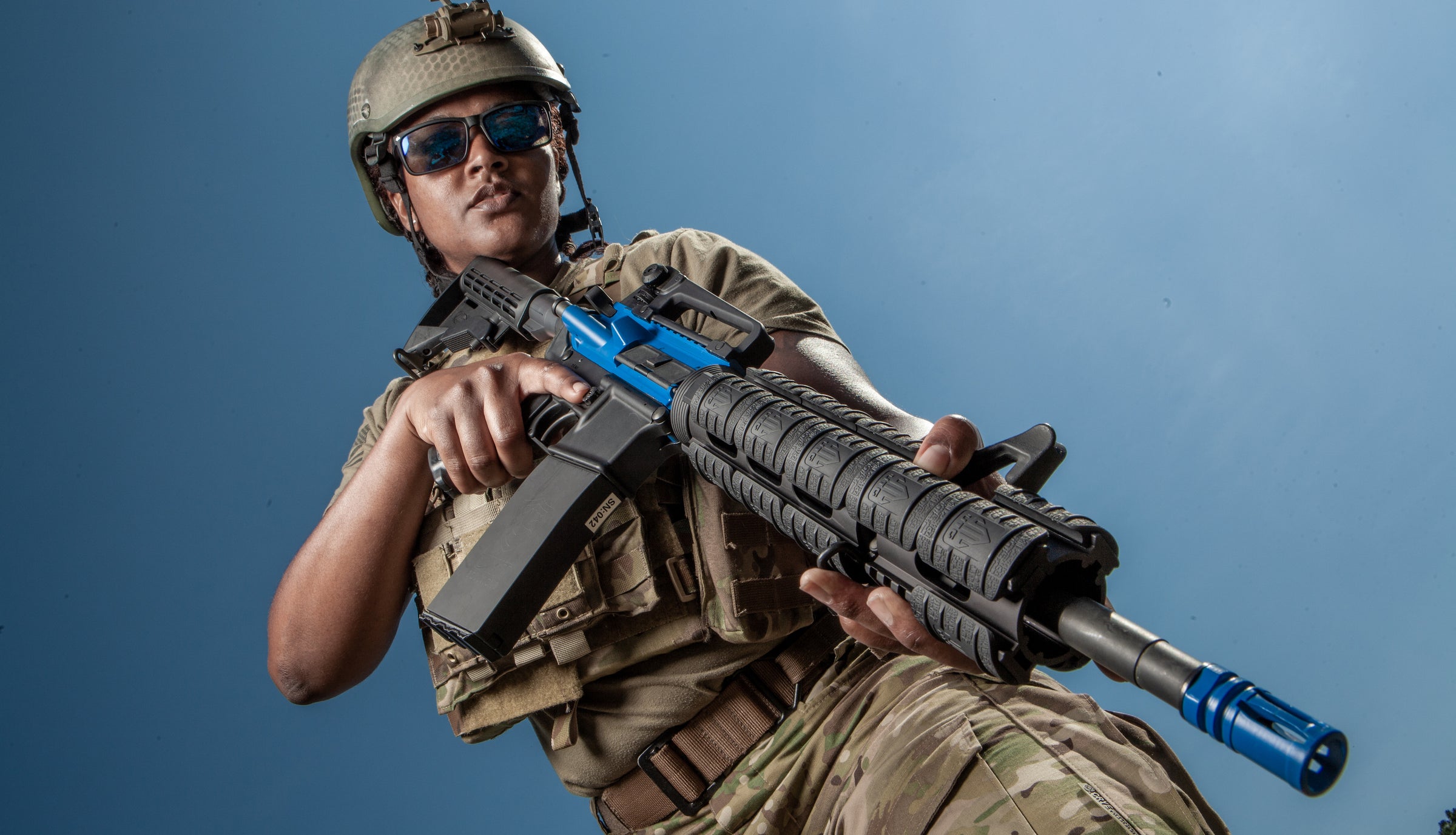 Learn Why The UNIT4 Training System Is Right For You.
Our patented UNIT4 Training Rifle is currently in use by the U.S. Special Operations Command, the U.S. Army, and countless professional training companies & law enforcement agencies throughout the country. Find out why below.
A Non-Lethal System that
Allows users to train safely, affordably and frequently.
Identical to the M4 service weapon in fit, form and function, the UNIT4 fires in both semi- and full-auto, with completely realistic trigger pull and recoil.
Classified by the ATF as a non-firearm, the UNIT4 can be safely deployed outside of traditional flat ranges or shoot houses, allowing for more opportunities to train in more realistic settings.
Learn More About
The UNIT4 Training Rifle.
Watch this brief video to understand how the UNIT4 Training Rifle can revolutionize your tactical training efforts.
With our patented TPAKs
You could save up to $1-per-round.
Our TPAK cartridges are available with marking rounds, non-marking rounds, and blanks. All TPAK projectiles are 100% biodegradable, lead-free, brass-free, and do not contain primer. 
The UNIT4 Magazine is crafted from robust materials selected for maximum durability—and features a carabiner style latch to provide maximum protection.
Professional trainers
Rely on the UNIT4 system because of its durability and versatility.
Whether you're military, law enforcement, or a private trainer, the UNIT4 will take your tactical training to the next level. Manufactured exclusively from the highest quality materials, the UNIT4 is a realistic non-lethal trainer with unrivaled durability.
Test & Evaluate The
UNIT4 Training Rifle Before You Purchase.
Our UNIT4 T&E Kit allows law enforcement, military and professional trainers to test the system before making a purchase. The UNIT4 T&E Kit includes one (1) rifle, one (1) magazine, and 600 non-lethal training rounds.
Keep All Officers
Prepared for an active shooter with the unitblu Program.
Our UNITBLU Program is offered in conjunction with Blu Bearing Solutions and combines a three-day active shooter response training course from retired Tier 1 Operator Kyle Morgan with four of our UNIT4 Training Systems.
Throughout the course, officers will acquire the skills to address and subdue an active shooter, and the department will be left with 4 UNIT4 Training Rifles and NLTA to continue training after the event.
The UNIT4 platform is
Compatible with simulators, lasers, optical systems, VR, AR & synthetic environments.
Our UNIT4 Simulation Starter Kit includes everything you will need to pair the UNIT4 rifle with compatible hardware in the simulated and virtual reality markets.